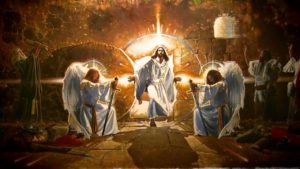 Sunday, Day 8 of 8:
"He is not here, for he has risen, as he said. Come, see the place where he lay." (Matthew 28:6) The first to announce the good news was an angel. There were more announcements to follow, that three days after His death, Jesus was alive! The angel stated, "As he said." Jesus had told them, and He kept His promise.
All of the Gospels testify to the resurrection of the Lord Jesus Christ. Yes, the tomb was empty, but the greater revelation and evidence came to the women seeking Jesus and then to the disciples. He appeared. Jesus rose from the dead, never to die again. Greater proof than an empty tomb is that He was seen and there was testimony by many.
For I delivered to you as of first importance what I also received: that Christ died for our sins in accordance with the Scriptures, that he was buried, that he was raised on the third day in accordance with the Scriptures, and that he appeared to Cephas, then to the twelve. Then he appeared to more than five hundred brothers at one time, most of whom are still alive, though some have fallen asleep. Then he appeared to James, then to all the apostles. Last of all, as to one untimely born, he appeared also to me. (1 Cor. 15:3-8)
Now after the Sabbath, toward the dawn of the first day of the week, Mary Magdalene and the other Mary went to see the tomb. And behold, there was a great earthquake, for an angel of the Lord descended from heaven and came and rolled back the stone and sat on it. His appearance was like lightning, and his clothing white as snow. And for fear of him the guards trembled and became like dead men. But the angel said to the women, "Do not be afraid, for I know that you seek Jesus who was crucified. He is not here, for he has risen, as he said. Come, see the place where he lay. Then go quickly and tell his disciples that he has risen from the dead, and behold, he is going before you to Galilee; there you will see him. See, I have told you." So they departed quickly from the tomb with fear and great joy, and ran to tell his disciples. And behold, Jesus met them and said, "Greetings!" And they came up and took hold of his feet and worshiped him. Then Jesus said to them, "Do not be afraid; go and tell my brothers to go to Galilee, and there they will see me." (Matthew 28:1-10)
The promise of forgiveness of sin and eternal life are provided by the death and resurrection of Jesus. He is not simply an example, and He didn't die as a martyr. A martyr could never take away sin nor provide eternal life to anyone. A dead savior is no savior at all. Jesus was alive! Jesus is alive!
Jesus died and arose as the Savior and Lord!